Sustainability and Corporate Responsibility
In 2016, RSB embarked on a new journey to achieve new heights in sustainability by implementing requirements to achieve Malaysian Sustainable Palm Oil (MSPO) certification. RSB also continues to fulfill its corporate social responsibilities (CSR) with various CSR activities and contributions.
In line with the government policy to ensure that all Malaysian palm oil are produced in a sustainable manner and sustainably certified in order to have wider access to world market, RSB focuses on the following areas:
1. Quality Products
RSB Group continues to maintain the ISO 9001 accreditation to ensure that we are delivering the high quality products at our mill. This shall eventually be replaced by Malaysian Standard (MS) 2530 of MSPO standard. RSB engages closely with oil palm smallholders as one of the main suppliers of Fresh Fruit Bunch (FFB) to its palm oil mill. This is to ensure traceability of the FFB that they have supplied. Competitive prices as advised by MPOB are offered to the smallholders based on the quality of the FFB that they supplied.
At our palm oil estates, to ensure that only good quality FFB are harvested, new harvesters are trained so that they only harvest ripe FFB bunches. To complement this, checkers are trained to closely check on the quality of harvested FFB . Only quality FFB are evacuated to the palm oil mills.
2. Best Practices
The standard operation procedures for our estates operation, which include good agriculture practices, safety & health, and palm oil mill, are continuously being improved. Training courses are conducted so that our employees at the estates and mills could adopt and follow these procedures to enhance efficiency and effectiveness constantly.
Manual and computerised records of productions are maintained for our estates and mills to provide traceability of our products.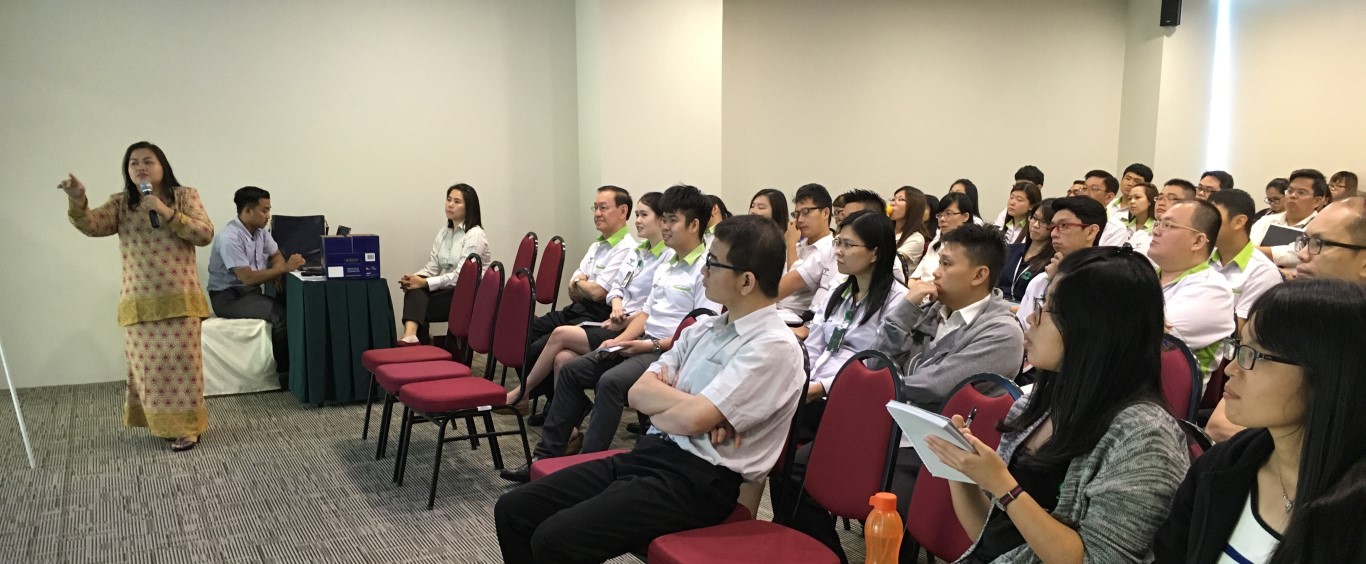 Staff Training
As part of our sustainable practices towards achieving MSPO certification, we have always taken necessary steps to reduce our environmental impacts. We recognise the need to maintain High Conservation Value (HCV) areas, and to protect rare and endangered species. Our operation adopts environmental management practices guided by local regulations.
New plantings are planned and managed to ensure identified HCV are maintained. We involved all stakeholders, plus regulatory bodies on environment, land & survey,and local communities. We are committed to zero burning on land clearance for our estates; in compliance with regulations, all land preparations for planting are done using mechanical clearing instead of burning.
Water sources that are important for surrounding communities and local wildlife have been identified and maintained as HCV areas. Signboards are erected at our sites as reminder not to disturb or hunt wild animals classified as protected species.
We take soil conservation seriously to minimise soil erosion and soil improvement by using organic fertilizer. Leguminous cover crops are used to maintain soil structures and suppress weeds. We also recycle Empty Fruit Bunches (EFBs) as soil improver.

Hazardous wastes, mainly lubricants and used chemical containers, are collected in accordance with regulations and are disposed by licensed disposal companies.

Donation to Clinic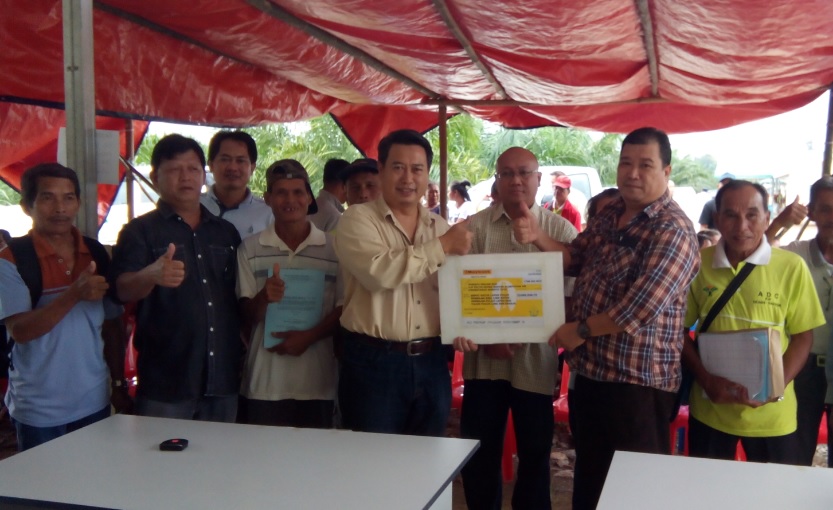 Dividend Payment
RSB fulfills its CSR by providing assistance to local communities nearby its estates and mills, such as lending of machines to level land for new longhouse site, providing road access, maintenance of roads and bridges. Contributions were given to schools and rural government clinics in the form of sponsorships to enhance the social well-being of the local communities. Our employees also participated in a blood donation drive for the Sibu General Hospital blood bank in May 2016.
In 2016, RSB continues with its on-job-training (OJT) program that provides opportunity for rural school leavers to pursue their study in plantation management at diploma level. These trainees are attached for on the job training for a period of 2 years at our estates.

Trainees who had successfully completed their study were recruited to fill up available vacancies at our estates throughout Sarawak.
RSB continues with joint-venture projects that have developed native customary rights (NCR) land into oil palm estates. At most of these estates, job opportunities are given to landowners and local communities. Some are also engaged as petty contractors on field and for upkeep works. Annual dividends are paid out to native participants of these joint-ventured oil palm estates.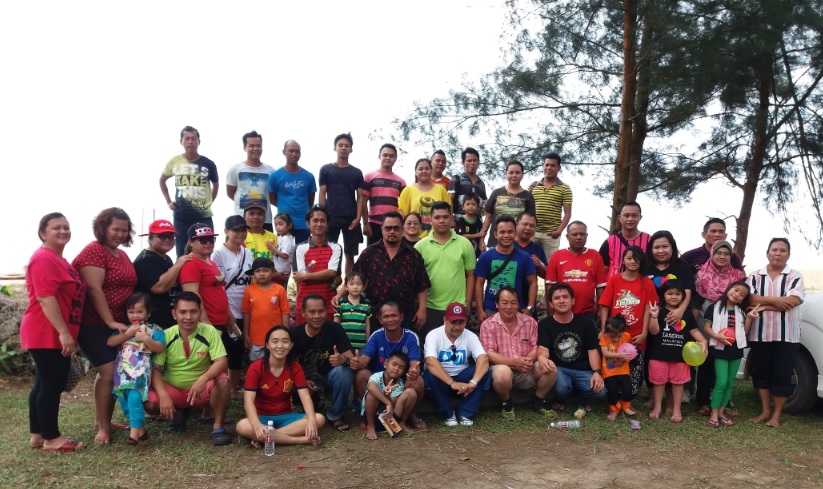 Family's Day
1. Staff Training and Development
We recognise the benefits of continuous training and development for our employees, especially with the challenges faced by the oil palm industry, including new regulatory compliances. Our ongoing training and development program enables us to upgrade and update the skills and knowledge of our employees of the industry changes and latest development in the respective subjects and profession.
The training also allows our employees to constantly advance, delivering better performance to the organisation, thus enabling the Company to remain competitive in the marketplace. Our employees have a much higher sense of job satisfaction, thus improving their motivation towards their work. This reduces employee turnover, increases productivity and at the same time to prepare them for future career progression.

Staff Orientation
Training Needs Analysis (TNA) is done annually together with the annual performance appraisal in order to identify the training needs of our employees. From this, training programs and plans are developed to deliver the required training for the betterment of their performance and that of the organisation.
2. Recognising Diversity
Recognising the importance of fostering good relationship among employees of diverse ethnics, the company allocates annual budget for organising of events to achieve this objective. The events include gatherings for employees to celebrate Chinese New Year, Gawai Dayak, Hari Raya Puasa and Christmas.
Places of worship such as surau and chapels are made available at the estates and mills to cater for the spiritual needs of local and foreign workers at the sites.
| | |
| --- | --- |
| Livestock Rearing Project | Table Tennis Competition |
3. Safety and Health
Safety briefings and training sessions have been conducted continuously for employees to create awareness on safety at work. Safe Operating Procedures are made available and employees at work sites are constantly briefed on them.
Safety and health audits are conducted periodically at estates and mills to ascertain the extent of compliance with the company's Occupational Safety & Health (OSH) Management System. From the audit, each work site is graded in accordance with its effort of compliance. Recommendations are made to improve the safety and health compliances at the workplace.
4. Welfare
Employees are encouraged to join aerobic sessions that are organised weekly at the Head Office, while sports and recreational facilities are provided at the estates and mills. Health Talk, games, and sports' competitions were organised for employees. These activities foster closer relationship, teamwork, and healthy competition among employees.
Employees at our estates and mills are provided with free housing, treated water, electricity and basic amenities. Transportation is provided for estates and mills employees' children studying at nearby schools. Clinics are setup at estates and mills to provide free basic healthcare, while more serious medical cases are referred to local hospital.
| | |
| --- | --- |
| 3D Puzzle Competition | 2016 Christmas High Tea |
| 2016 Gawai Celebration | 2016 Chinese New Year Dinner |